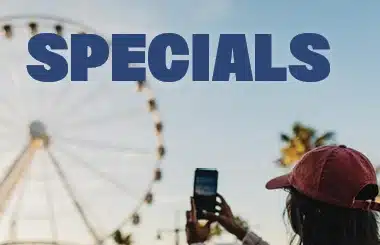 SENIOR'S DISCOUNT
ENJOY A HALF PRICE RIDE EVERYDAY
From 10am until 6pm (weather permitting), we offer a pensioner's discount off the full ticket price. The discounted ride price is only R95.
A valid RSA ID document required.
BIRTHDAY DEAL
SIGN UP & RIDE FREE ON YOUR BIRTHDAY
Fill in the application form and on your birthday you will receive a FREE birthday voucher via email valid for 30 days. Bring a printout and your ID to the ticket booth and enjoy your FREE ride!
PLEASE NOTE: If you do not have the printed voucher, the FREE ride may only be redeemed on the day of birthday, using ID as proof.
PHOTO OF THE MONTH
ENTER NOW
We would love to see your photos of the Cape Wheel. Post them to our Facebook page or Instagram #capewheel. Every month end we will choose a winner, the pictures can be professional or just-for-fun.
SKY DINING PICNIC
PICNIC IN THE SKY
Come collect a picnic basket and go fill it with your favourite goodies. We will pop a table in your gondola for convenience and extend your ride to double the length of your ride so you have time to snack while taking in the views.
SCHOOL OUTINGS
SPECIAL PRICES FOR SCHOOL OUTINGS
We offer reduced prices for all pre-booked school outings.